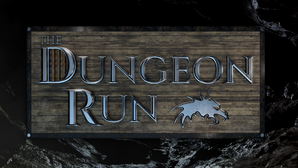 Welcome to The Dungeon Run
The Dungeon Run is a live roundtable RPG show in which five explorers will navigate an interactive Dungeons & Dragons game, featuring a minefield of audience-laid traps, spectacular models, and threatening monsters at every turn.
Get to know your cast of brave adventurers before you dive in.
The Dungeon Run shirts are available now! Check out our merch store to purchase. New Shirts Have Arrived. Check out The Flock, Baby Arrabann and Dungeon Run Vardo T-Shirts. Also check out the new Baby Arrabann Coffee Mug.
Then: Follow The Dungeon Run on Caffeine to watch and interact live with the cast every Wednesday at 6PM PDT. Then watch the recap show The Dungeon Rundown every Tuesday at 6 PM PDT as Trisha Hershberger talks with cast members about the previous weeks episode.
Got Fan Art? Add your fan art to The Dungeon Run Discord fan art page. (By submitting, you confirm that you own the image and allow Caffeine, The Dungeon Run, and The Dungeon Rundown to share it on social media, broadcast, and online.)
Join the Fan Discord to chat about the show all week long at The Dungeon Run Fan Discord
Have a good idea for a Force card? Submit your Force of Good and Force of Evil card suggestions here and we might use them on the show!
The Dungeon Run Theme song now has a cool Dungeon Run Remix that you can listen to complete with some of the casts classic lines from the show. Also listen to the Dungeon Run Main Theme song by Heather Stewart and Leah Finkelstein.
Catch teasers and previous episodes on the YouTube Playlist or on our Dungeon Run Episode List Page and Dungeon Rundown Episode List Page. To see the episodes from the side adventure by Amy Vorphal you can go to The Mending of Magic Episode List
Latest activity